Make purchases with confidence using our Visa Platinum credit card. You can take control of your finances by managing your debt, building your credit score, and using your card's flexibility to pay for small or large purchases.
Our Visa Platinum credit card features:
No annual fee.
24/7 fraud monitoring.
Low standard APRs.
Access to uChoose Rewards.
Ability to make transactions at millions of places both nationally and internationally.
View and manage activity online or with our Mobile App.
Ability to make payments online or at any branch.
No cash advance fees.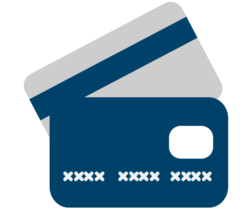 For more information or to apply for your Visa Platinum credit card, give us a call at (989) 893-2831. You can also apply online using our general loan application located below.
Lost/Stolen Mastercard debit cards:
To report your credit card lost or stolen, please call (989) 893-2831 (use Option 3 during business hours and Option 1 after hours).
Activation/PIN change:
To activate your credit card or request a PIN change, please call 1-800-992-3808.